WHY INFUSION PRO? ​
Premium water bottles. ​
Innovative infusion design. ​
100% customer satisfaction. ​
​At Infusion Pro, we believe hydration doesn't have to be boring. We believe in staying hydrated and healthy with delicious, infused water that's fun to drink. We believe in offering the best infusion bottles you can find on the market. And, if you're not happy, we're not happy and we'll make it right.​
Design
Our key innovation and differentiator is a user-friendly, bottom loading infuser design.
Others are located at the top of the bottle. Once water reaches a level below the infuser cage, the fruit and herbs are no longer infusing flavor.
Benefits
Infused water is not only tastier but also allows you to naturally consume more nutrients.
Research suggests that 20% of the vitamins in fruits may be absorbed when infused in water for as little as 2 hours.
Aloha Spirit
Infusion Pro was founded in the beautiful Hawaiian Islands and we base everything we do on the "Aloha Spirit" - the coordination of mind, body and heart, emoting good feelings for and to others.
Quality
Each bottle is designed with intention and premium materials to ensure the final product meets our standards. We are dedicated to innovation, constantly improving our existing designs, and developing new products with the same level of care.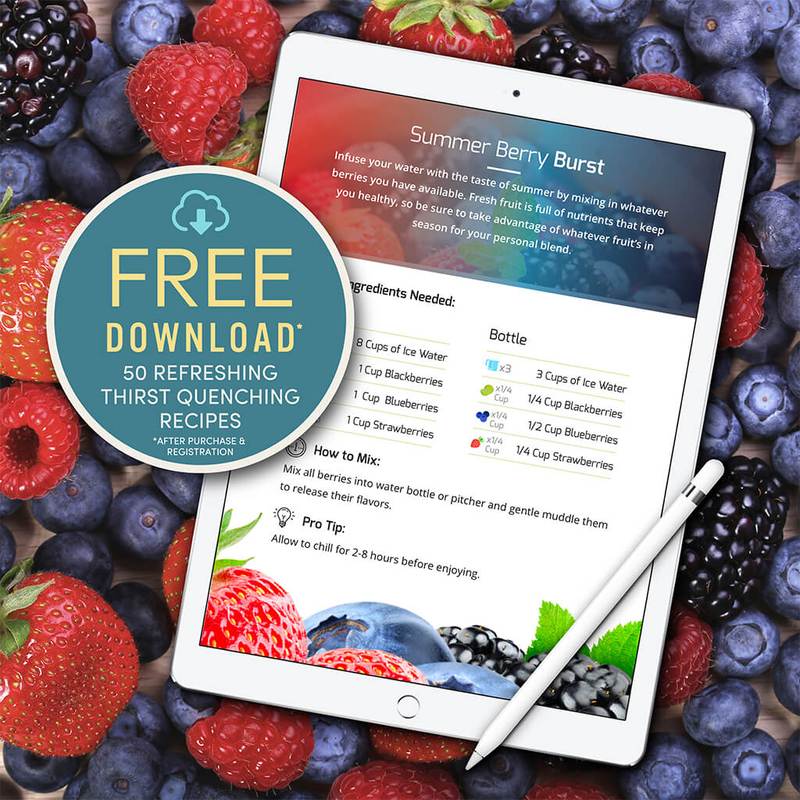 Buy any Infusion Pro Bottle and receive our free eBook with 50 delicious and creative infused recipes! ​
After purchase, just register your bottle it's easy!
​Register Your Bottle
Fill out the information below and here's what you'll receive:​
Limited

 lifetime warranty that covers against 

manufacturer defects.

​

eBook PDF download link with over 50 infusion 

recipes 

​

Lifetime access to exclusive new recipes, 

discounts, info on new products, videos and 

more. 

​
​
**After registering, check your inbox and spam folder for instructions on how to download your eBook**​
"*" indicates required fields
Some of Our Favorite Recipes
LIFETIME WARRANTY​
Simply put, our customers come first. We are committed to quality, and we stand behind every product we make by offering a limited lifetime warranty that covers against manufacturer defects. ​
To secure your warranty, receive your free eBook with 50 infusion recipes, and have access to other Infusion Pro benefits, please complete the registration form. ​